More and more construction companies are moving their accounting to the cloud. This is no wonder when you consider it affords more flexible access and easier integration with other tools. This is where Sage Intacct is worth leveraging for your company.
In this article, we'll discuss what you might not yet know about Sage Intacct Construction. More specifically, we'll focus on the features you won't want to miss.
Why Do Construction Companies Need Accounting ERP?
With over $1.3 trillion worth of structures built in the United States every year, construction firms have large amounts of information to manage. Their financial needs are seldom met entirely by software. Instead, many US construction companies use separate spreadsheets to manage multiple locations.
Construction firms can now look forward to a financial management tool tailored precisely to their needs. Sage Intacct Construction will address the complex needs of the construction industry with its native cloud software. 
Even those that are currently using Sage 300 CRE and Sage 100 Contractor should consider making the switch.
What Is Sage Intacct?
Sage Intacct Construction was built with more than 50,000 construction companies that currently trust Sage. While it was created in collaboration with Timberline, every feature maintains a focus on the needs of construction companies.
It brings together cloud accounting and construction software. This allows you to manage the finances of your projects on a multi-tenant cloud platform. Sage Intacct is a native cloud solution. It tracks and manages costs and productivity with real-time statistics. It can do so from any location and reduce the time it usually takes construction companies to manage their finances.
Why Sage 300 Users Are Switching To Sage Intacct
Sage Intacct promises more comprehensive features for construction companies. That's why many current Sage 300 users are looking to make the switch to the new platform. The most common reasons are that their company is outgrowing their existing tools.
With Sage Intacct, these users can manage their forecasting and reporting needs with more flexibility. Sage Intacct provides real-time reporting that allows finance teams to make confident decisions.
It will also make it easier to separate invoice billing and revenue recognition so you can trust in an accurate forecast of your cash flow.
You'll also benefit from advanced integration capabilities. Whereas Sage 300 could not integrate with a broader range of apps on the market. Sage Intacct's open API allows for easy integration with world-class solutions. This includes integrations like the Sage CRM and Salesforce.com.
Plus, you can move on from the Sage 300 on-premise solution to a cloud-based solution. You can access your data in the cloud at any time and from any location, all you need is an internet connection. This gives your financial team the ability to work remotely. It also makes it easier to manage products while in the field.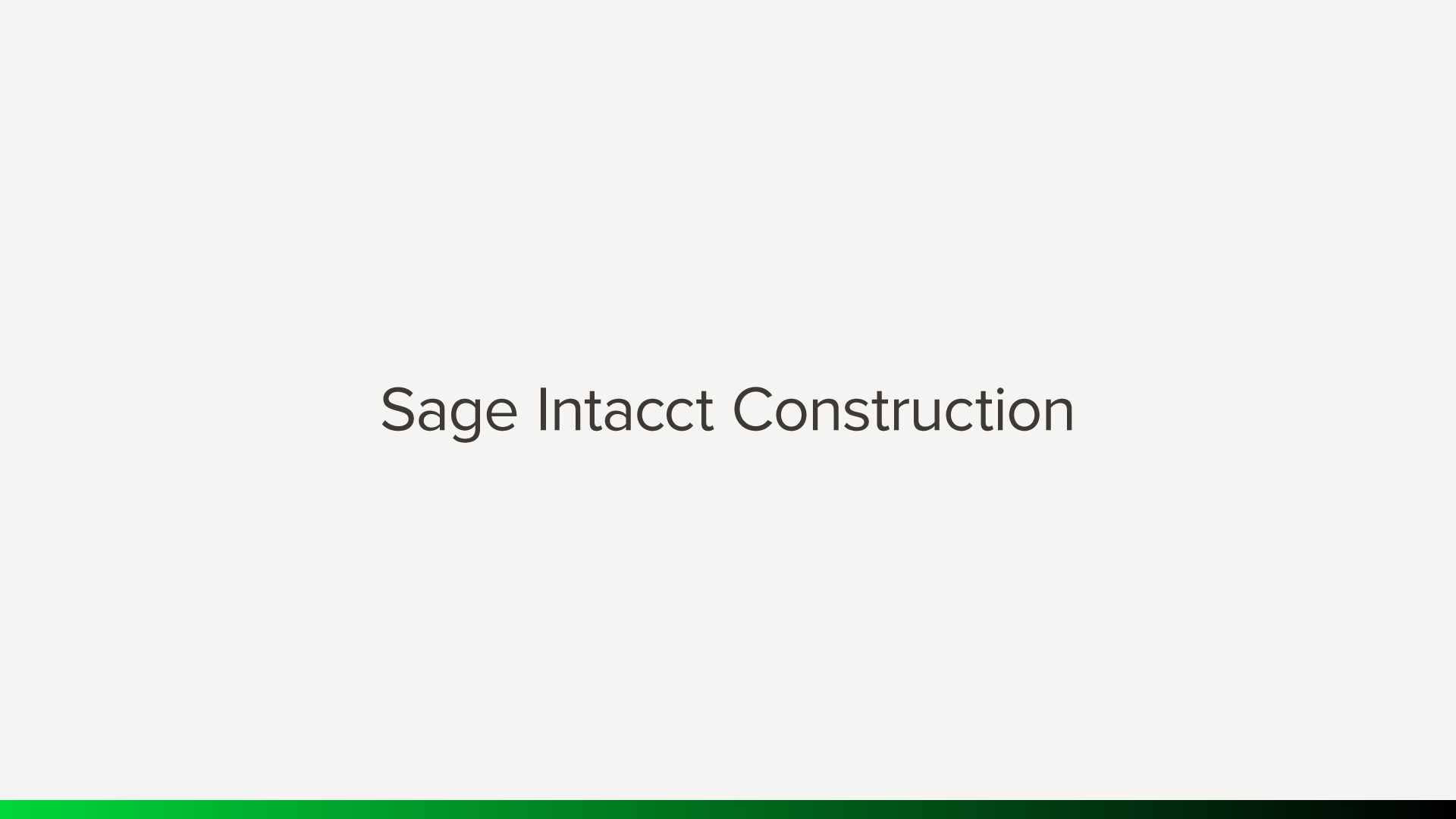 Why Sage Intacct Construction Is The Ideal Financial Management Platform For Construction Companies
We've already touched upon the fact that Sage Intacct Construction was developed from Timberline. The previous construction software that inspired Sage 300 boasts over 40 years of experience in this field.
As a result, Sage Intacct Construction understands the needs of construction companies. It's developed features to help them manage their cash flow and finances. So, it never loses sight of the complexity of multiple ongoing projects.
Faster Reporting
Sage Intacct can help your construction business deliver results with 30-50% faster reporting. Reduce the time and cost of audits and increase efficiency.
You can draw in information from the field, payroll, and budgeting solutions for comprehensive reports.
Financial Management
Sage Intacct streamlines financial management. Your financial team will be able to spend up to 25-75% more time on analysis and business strategy. Make the most of your experts by allowing them to focus on what will grow your business the most. This includes a 25-50% reduction of month-end close time!
Sage Intacct Construction provides comprehensive and advanced management capabilities for your accounting team.
Capabilities include:
Allocations management
Budgeting and planning
Cash management
Fixed assets
Dimensional general ledgers
Project costing and billing
Payable and receivable accounts
Reporting and dashboard
Revenue recognition
Spending management
Time and expense tracking
Multi-Location Tracking and Real-Time Insights
One of the biggest challenges to construction businesses is the complexity of managing multiple sites. Sage Intacct addresses this with its ability to consolidate multiple locations and entities – it even manages various currencies simultaneously.
Your global business can easily keep track of projects and finances across the field. The software provides real-time tracking and insights to grant you full visibility of every site. This will make it easy to access revenue and expenses for any project as you can immediately check-in and keep track of your budgets.
Who Is Sage Intacct Construction For?
Sage Intacct is perfect for construction businesses of any size. The open API allows companies to integrate with their existing apps for processes. Sage Intacct can work hand in hand with current or future software.
Integrations make Sage Intacct a flexible solution for any construction project. For home builders, Sage Intacct Construction can integrate with Hyphen HomeFront. This brings out the best in both the financial management software and the build process management tool.
This enables you to manage projects with multiple solutions and consolidate all the data in to Sage Intacct.
Did You Know…
Sage Intacct Construction is recognized by finance experts. It is the first and only preferred provider of the AICPA. It also received the highest score in Core Financials for the lower Midsize Enterprise Usecase in Gartner's report in 2019.
Sage Intacct Construction also has the highest customer satisfaction score for accounting software! It also leads the market on ERP systems categories on G2, the leading platform for business reviews.
Discover The Top Of The Curve With The Leading Financial Management Solution
Are you thinking of transferring your accounting to the cloud? If so, there's no better solution for your construction business than Sage Intacct Construction.
With decades of industry experience, this tool offers a tailored solution for construction companies. For more information about Sage Intacct, please don't hesitate to contact us today!