BidMatrix
Critical Bid Day Analysis Software
Crush Your Bid Day Competition
Make bid day a breeze and win more bids with BidMatrix bid analysis software! It's subcontractor bid analysis with real-time estimator collaboration. Eliminate the guesswork in your bid day analysis and instantly analyze complex subcontractor and vendor bids in your construction estimate — while managing inclusions and exclusions — all within an intuitive, cloud-based, spreadsheet UI.
Get up and go! No complicated installation or training required. BidMatrix construction analysis software is powerful, yet simple and intuitive, making for fast construction estimating and analysis. You can use it on your next bid and win more estimates today.
Instant Bid Package Analysis
No more wondering what your lowest subcontractor construction bids are. Without BidMatrix, complex quotes come in at the last minute without enough time for critical construction bid analysis. With BidMatrix bid day software, the absolute low path is immediately selected as each subcontractor bid is entered, taking into account whole, partial, and discounted bids. Bid analysis of thousands of paths are done instantly.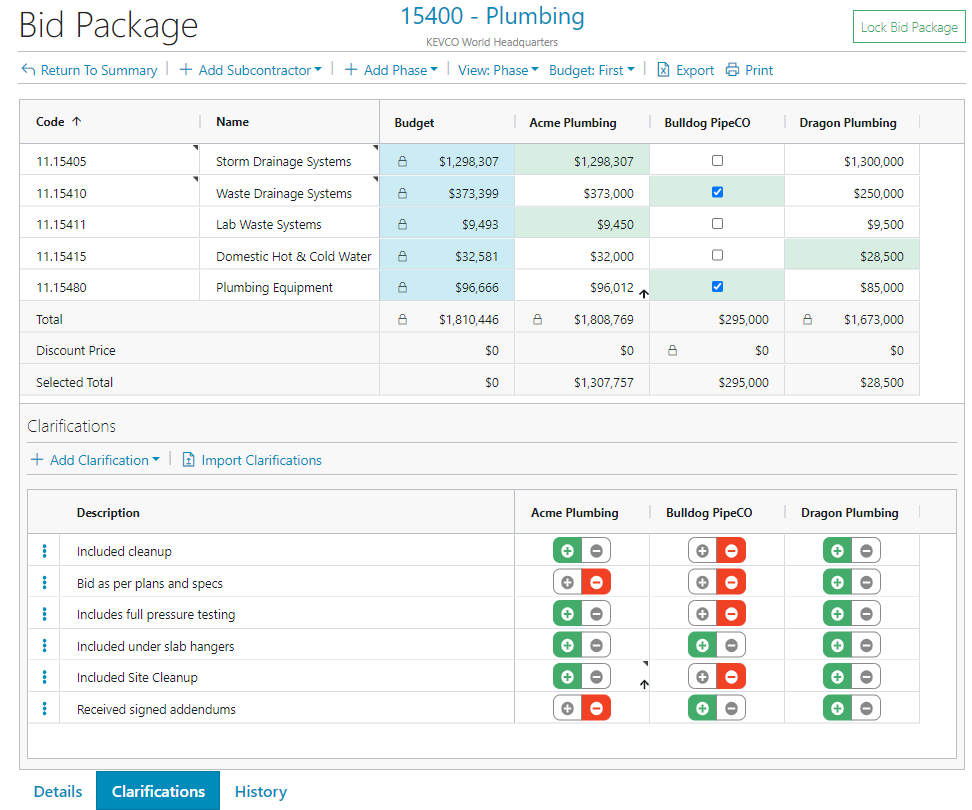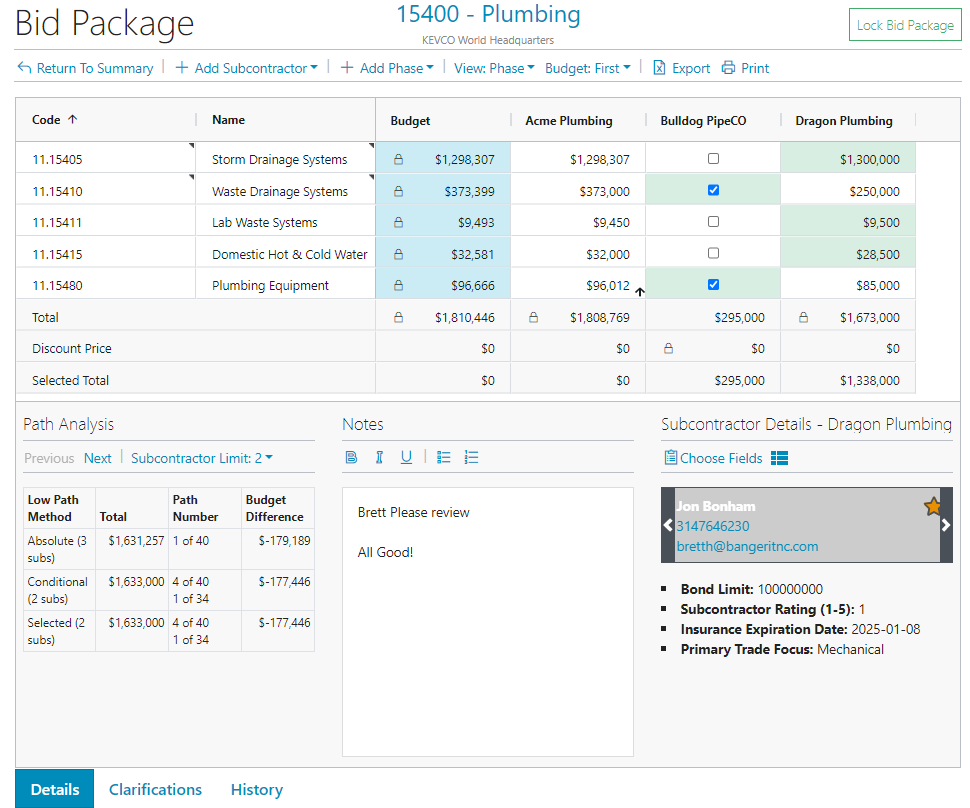 Real-Time Collaboration, Built on the Cloud
As a prime contractor or contracting officer, do you need multiple people entering bids in your subcontractor analysis — maybe even from different geographic locations? BidMatrix was built for that. Access BidMatrix in your web browser anytime and anywhere you have a data connection, for any type of project.
Manage Inclusions and Exclusions
Manage your inclusions and exclusions in BidMatrix. Understand where you have exposure points and manage your risk. Increase your win rate and increase your profit margin immediately.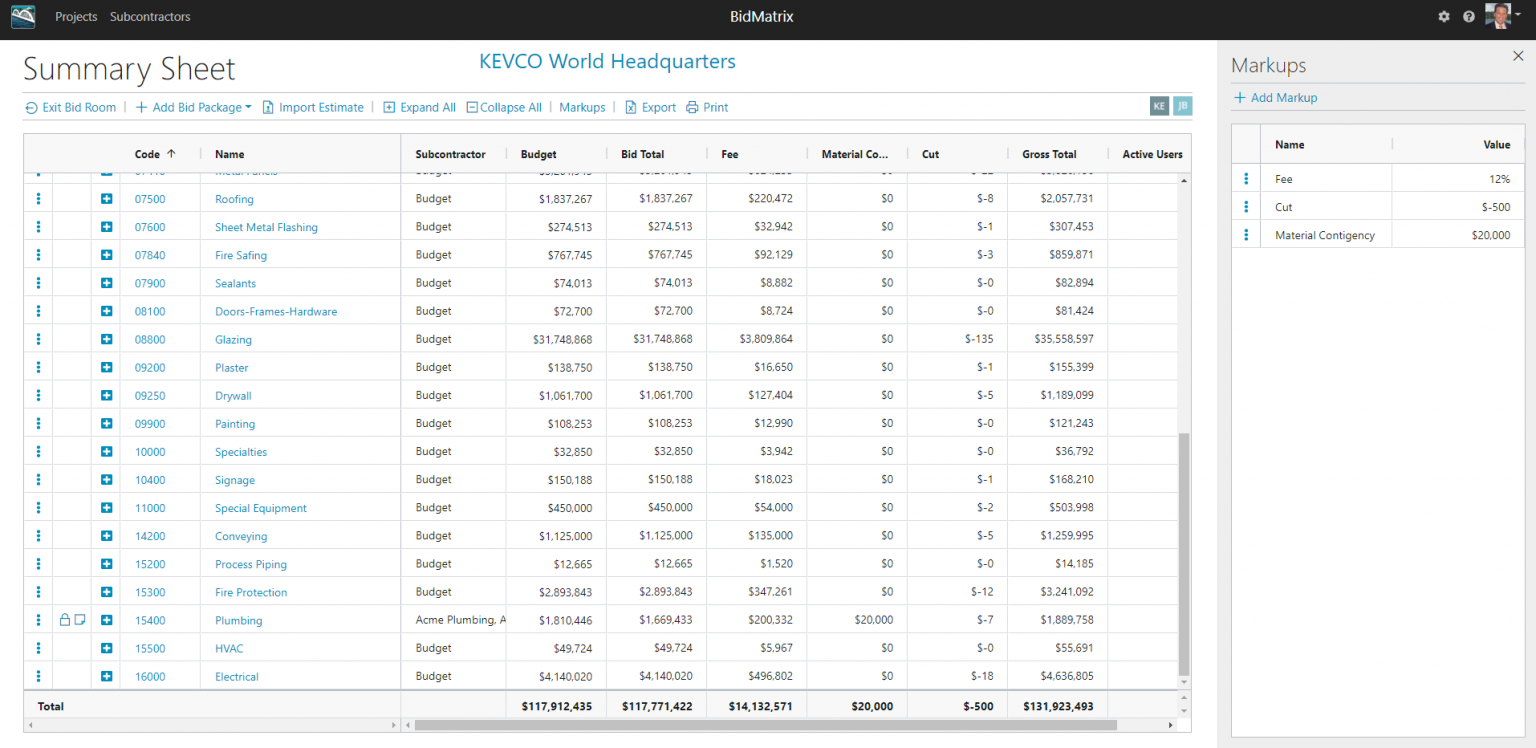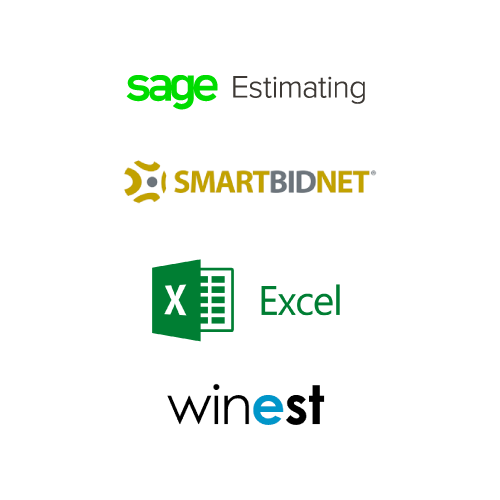 Powerful Integrations
Construction bid management made easy. Key integrations with industry leading estimating and invitation to bid applications allow easy setup of bid packages. Integrations include Sage/Timberline™ estimating, Trimble WinEst™ estimating, SmartBid™, and even Excel for a complete estimating analysis software toolbox.
Complete Audit Trail
No more wondering as to who and why a number was entered in your cost or price analysis. BidMatrix cost analysis software keeps a detailed audit trail of all additions and changes in each Bid Package.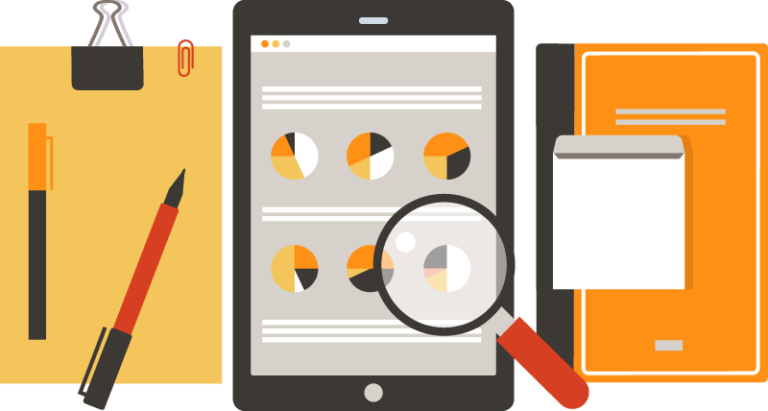 How is BidMatrix deployed?
It's built on the Cloud. You just need a data connection.
What are the contract terms for BidMatrix?
BidMatrix is purchased per user on a 12-month subscription.
What happens if I choose to not renew a subscription?
You can request a download of your project data.
Will BidMatrix use our data for the purpose of sharing, selling, or marketing?
No, each company's data is private. BidMatrix will not share, sell, or use a company's data for marketing purposes.
What kind of estimating software integrations does BidMatrix have?
BidMatrix integrates with two of the top estimating solutions by software companies in North America; Trimble's WinEst™ estimating and Sage / Timberline™ Estimating.
What about integrating with invitation-to-bid or bid management solutions? Can I import from Excel and can I have my own local subcontractor database?
In addition to the local BidMatrix subcontractor database, you can also integrate ConstructConnect's SmartBidNet™. You can also import from Excel.
Can more than one of my estimators collaborate on the same bid at the same time in BidMatrix?
Yes!
Can I attach notes in the bid package matrix for a subcontractor when I enter a number?
Yes!
Can I exclude a subcontractor's number when looking for the optimum bid package solution in a specific bid package?
Yes!
Can I exclude a subcontractor's number when looking for the optimum bid package solution in a specific bid package?
Yes, you can do that!
Can I do a comparison of my budgets for each bid package with the quotes I'm entering from subcontractors?
With BidMatrix, you'll get instant feedback as you enter subcontractor numbers into the bid package. BidMatrix will continuously compare numbers to give you the best possible scenarios.
Can I enter more addons/markups to the project bid in BidMatrix?
Yes, you can add lump sum and percentage markups to the entire project bid. Each markup can either be applied to the entire bid, or restricted to one or more bid packages.
Can a list of scope clarifications be imported in from Excel or Word?
Yes!
Can I add dollars to a subcontractor quote to cover missing scope or can I make a last-minute cut to a quote?
Yes!
While reviewing a subcontractor's quote for inclusions and exclusions, can I subtract or add dollars from it?
Yes!
Does the bid package matrix show the subcontractor's primary contact (e.g., phone number, email address, etc.) upon entry into the system?
Yes!
If integrating with SmartBid™ within each BidMatrix bid package, can I see which subcontractors accepted or declined the bid package invites that were sent from SmartBid™?
Yes!
Can I print the bid package matrix?
Yes!
Can I print the bid summary sheet?
Yes!
Is BidMatrix a Buyout Software?
BidMatrix is one tool in your estimating buyout software toolbox. For the ultimate software package, connect BidMatrix with your construction estimating software or your construction bid management software. Save a portion of your buyout funds to purchase BidMatrix!
Cloud Bid Analysis
One platform to streamline the bid day process
Instantly analyze even the most complex subcontractor bids
Collaborate with your team in real-time
Manage inclusions and exclusions
Complete audit trail
Integrates with top estimating and invitation to bid solutions
Quick to install and implement