Sage Estimating
Responsible for more contractor growth and profit than any other construction cost estimating software, bar none.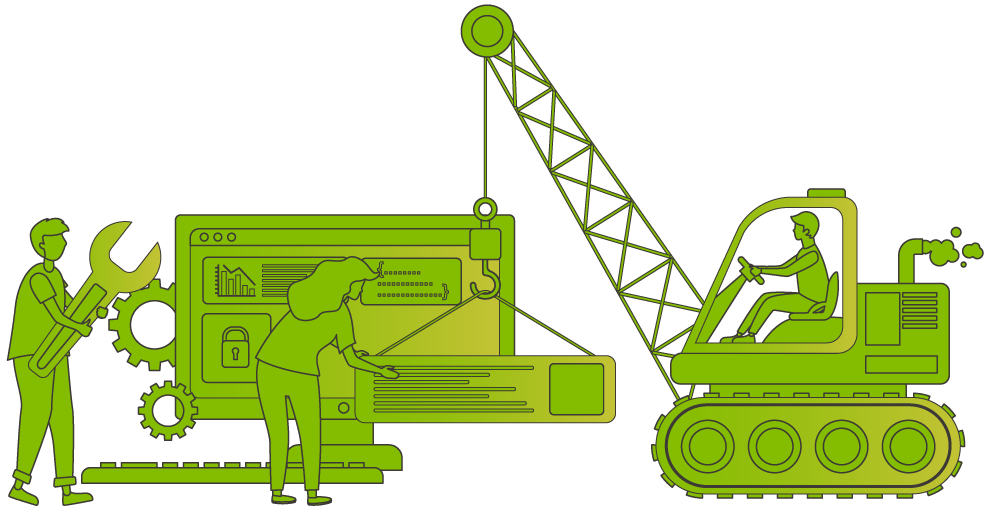 The Problem It Solves
Estimates are a "cost of doing business" and they sure aren't free. They are also where the risk equation on any project starts. Have you ever discovered an error after you have no way to correct it? Do you ever have more estimates you want or need to create than you can possibly stuff into a 24/7 week? Sage Estimating is the platform that multiplies estimator effort and mitigates risk like no other.
Your Immediate Return
You can start building estimates in Sage the moment it's installed and eliminate the inherent risk that construction estimating spreadsheets, free estimating software, and short deadlines "build-in" to the process. As you continue to use it, you'll create an estimating powerhouse.
Long-Term Gain
Our very first customer 30 years ago started with Sage Estimating. In that time they have won hundreds of millions of dollars worth of work, saved 115,000+ man hours, and conservatively $4,600,000.00 of overhead cost (yeah, like we said, estimates aren't free). The ROI of Sage Estimating in this case and for all of our clients is nothing short of outstanding.

Assemble Systems and Navisworks BIM Integration

Powerful Formula, Assembly and Model Takeoff Modes

2D and 3D Electronic Takeoff


Class Leading Estimate Analysis Tools and Reports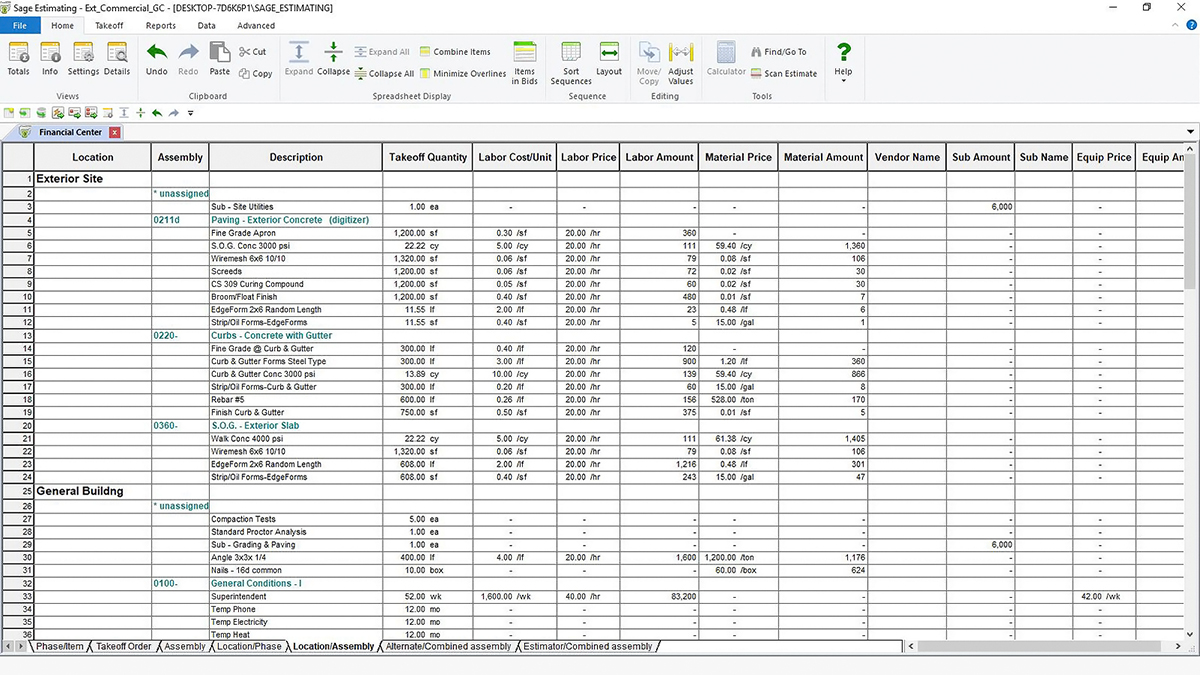 Ever been curious about how modern-day contractor estimating software was built?
In this episode on Builtcast, Bangert's Construction Podcast, we talked with Curtis Peltz, the brain behind Sage (Timberline) Estimating and the tools estimators use today.
Competitive Advantage
We can't count the number of customers that have told us that Sage Estimating gives them a competitive advantage over other building estimating software. If you're a competitor of one of our clients, trust me, they won't give you a review. Clients have demanded that we not sell to other companies in their area. We've had spreadsheet wizards and estimating software skeptics become true believers. When asked what it would take to give up Sage Estimating, one client's answer: "Out of my cold, dead hands."
Massive Time and Cost Savings
Looking to hire estimating talent? So is everyone else. Why not double the productivity of your existing staff instead? Just the cost of finding, hiring, and proving out a new estimator exceeds that cost of the typical Sage Estimating system – and – takes longer to boot up.
Significantly Reduce Errors and Risk
Our estimating-specific spreadsheet, database technology, assemblies and models inherently remove potential errors, thereby reducing risk significantly. Our analysis tools, unlimited sort and filtering, plus alternate handling put eyes where they need to be on final estimate approval. The bottom line: peace of mind and more profitable completions.
Familiar Spreadsheet UI
Sage Estimating pioneered and perfected the spreadsheet user interface. While it looks and works like familiar spreadsheet tools, it also offers some important advantages. First, there's no way to break formulas and otherwise introduce errors. It can calculate formulas forward and backward, giving you unparalleled analysis and decision making abilities.
Powerful Formula, Assembly, and Model Takeoff Modes
Estimate the most complex assemblies and and build complete model (conceptual) estimates in seconds, with details that would take hours using other methods. Formulas, Assemblies, and Models are completely configurable. This means Sage Estimating works your way. You don't work Sage's way.
2D and 3D Electronic Takeoff
While BIM is an exciting tool, we all know that only a percentage of projects are working within a BIM environment. We also know that some BIM projects are not full 3D enabled and require 2D takeoff capabilities. That's why Sage Estimating performs quantity survey in a 3D or 2D environment and moves seamlessly between both on the same project.
Add-ons, Bond, and Markups
Sage's powerful totals page allows you to calculate add-ons and markups exactly as you wish. You can even automatically allocate selected lines across a defined set of items in the estimate or even all items.
Class Leading Estimate Analysis Tools and Reports
Want to know what's different between version two and five? Alternate one, four, and six? No problem. Need to deliver your estimate in a format according to a client's specification? Want to deliver estimate details by phase of the project so field crews can produce more effectively? Again, no problem. They're built-in. If we don't have it, design your own the way you want it. That's the power of Sage.
Estimate Management
Keep track of estimates, deadlines, bid dates and pipeline totals. Sort by type, estimator, value, client, and more.
Alternates
Easily create an unlimited number of alternates for your base bid and give your client the information they need to make a solid building decision.
Natively Integrated
Integrate Sage Estimating with your Sage 100 Contractor or Sage 300 CRE.
Assemble – Navisworks – Liberty Reports – eTakeoff Dimension – eTakeoff Bridge
The power of Sage Estimating
"I enjoy the level of detail that Sage Estimating allows me to engage in. I love the ability to store the historical data and I am able to draw the information to include in my current estimates."
Jaime R
Estimator
Architecture & Planning
Mid-Market(201-500 employees)
Powered by g2.com.
Excellent resource for construction estimating
The estimating database functionality is really useful for assembling comprehensive construction estimates. Our company uses Sage Accounting software, and the transition between the two pieces of software within our company workflow is nearly seamless.
Brian B
Small-Business(11-50 employees)
Powered by g2.com.
Excellent for Contractors and O&Ms
"Robust, easy to support, powerful logic in Assemblies and Models."
Steve D
Sales Engineer
Oil & Energy
Enterprise(1001-5000 employees)
Powered by g2.com.
Don't Take Our Word For It
Jordison Construction skipped Excel and went straight to Sage Estimating (Timberline Estimating) from using manual methods.
We talked with Jordison's Estimator, Jerry Savage, about why they implemented Sage Estimating and how they produce accurate estimates in less time – ultimately increasing their bid-to-win ratio.

"There's so much work that's done behind the scenes in pre-construction. [With Sage Estimating] I can put a bid together in 1/3 of the time it took me before," Jerry said, adding that, "I'd tell other contractors that you're going to be able to put quotes out faster, you can do more of them. The ability to produce more bids pays for the system after a while."
Jerry Savage
Estimator,
Jordison Construction
Start Building With Bangert Today
In an era cluttered with technological noise, Bangert takes the guesswork out of finding the right solution for your needs. Our team is excited to share our proven process with you and it has never been easier to start a conversation.