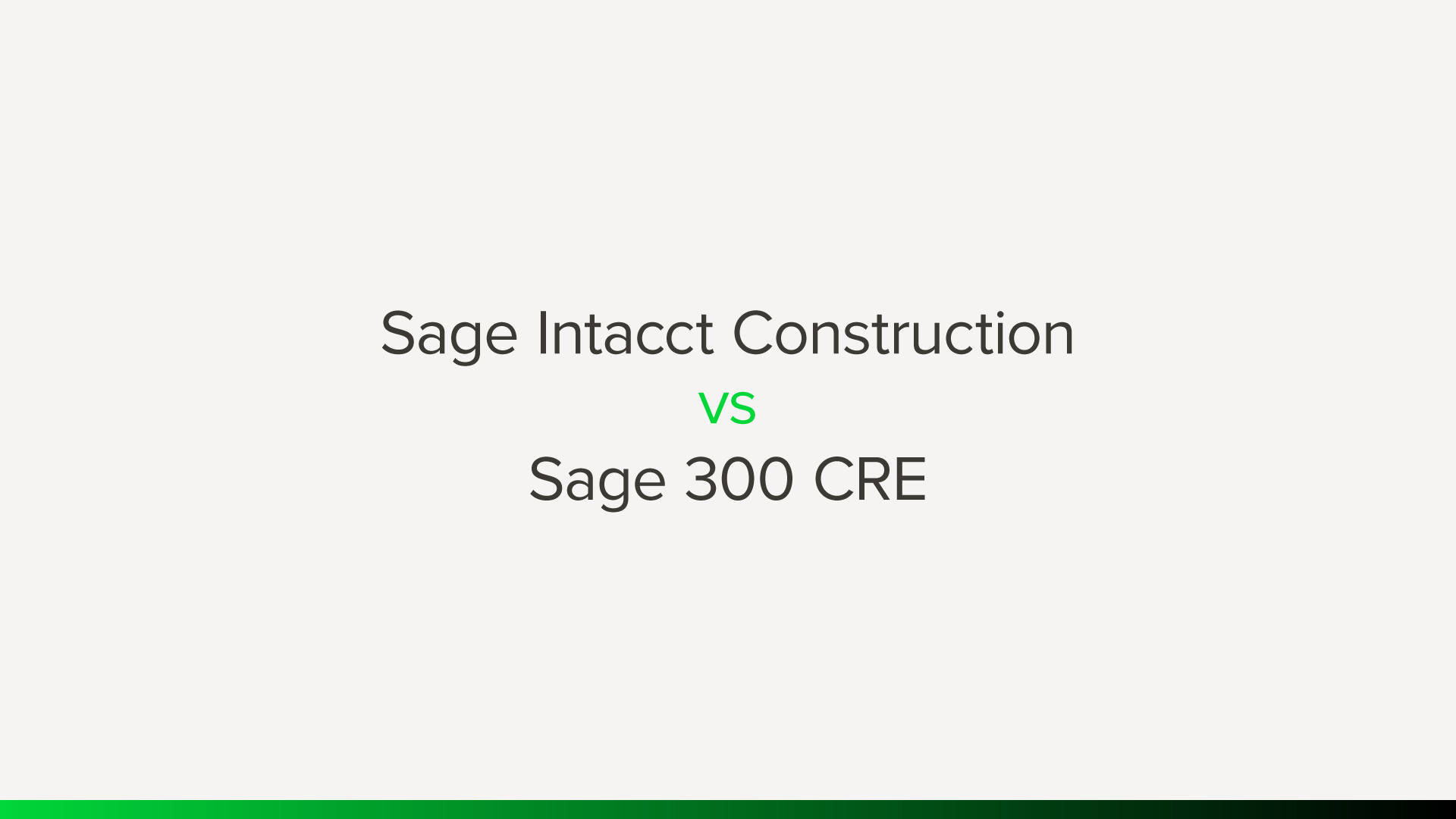 The construction industry was valued at
$1.3 trillion in 2019
. Since then, it's only grown. With this growth in the industry, it's important that construction companies have a solid financial management solution in place. Processes must be able to grow and adapt to the ever-changing industry.
In today's modern world, it has never been easier to streamline your company's processes. Construction firms can now manage their accounting operations in one easy cloud solution.
Keep reading to learn more about Sage Intacct and how it can benefit your construction business.
What Is an Accounting ERP Solution?
ERP stands for enterprise resource planning. An accounting ERP solution is a system that manages all a company's processes and operations. A centralized accounting solution is one integrated system to manage all company operations.  
Using an ERP solution for your accounting function streamlines your processes. You can also automate and simplify several accounting areas. Areas such as accounts payable and accounts receivable.  
An accounting ERP solution will allow a construction company to collect data from all departments. This makes recordkeeping and generating financial statements much easier.  
More automation, better processes, and increased data visibility lead to better decision-making. Keep reading to compare two leading accounting solutions. Sage Intacct construction and Sage 300 CRE are detailed below.
Sage Intacct Construction vs. Sage 300 CRE
While they do offer a similar solution for construction businesses, there are many differences between the two solutions. 
Sage Intacct is a cloud solution and has real-time reporting and regular updates. Whereas Sage 300 CRE is a Windows-based legacy system that you are responsible for updating and maintaining.  
A comparison of key points showing the differences between the two software solutions is below.

Platform/Deployment
Sage Intacct construction is a new solution from a trusted construction software publisher. Cloud-based solutions allow access to your accounting data anywhere you can connect to the internet.  
A cloud solution backs up your data on a regular basis without you having to do anything. Cloud solutions have regular enhancements to the system. 
Sage 300 CRE is a network-based solution that relies on the client's server. This means you must use this software on premises within your company's infrastructure.  
Your IT team will be tasked with any updates or enhancements to Sage 300 CRE. This includes regular data backup and security.

Licensing
Sage Intacct is a subscription-based license. This license includes regular updates and the major IT infrastructure that it operates on.  
Sage 300 CRE is the software you buy a license for at one time. But, when you do this, updates and maintenance are not included. You are purchasing access to the software at that date in time.  
You can use this license forever if you want to, however, there are practical limits to this. You will have to pay extra fees for maintenance and support. It does have the option to buy some modules on a subscription basis.

Pricing Structure
Sage Intacct is a subscription-based fee. The subscription includes data management and regular updates. It also has backup/recovery, technical improvements, and ongoing support.  
Sage 300 CRE is a one-time expense. For support plans, you can expect to pay more. An individual ticket is $250. You can buy ongoing support for $249 to $349 per month. You are responsible for updates, backups, and recovery.  
While Sage 300 CRE may be a cheaper up-front price, you have to calculate how much the ongoing support will cost and, more significantly, the cost of ongoing IT infrastructure. This includes periodic hardware updates, hosting fees, managed services, and more. You'll have to decide which option is most cost-effective for your company.

Intangibles
There are several other factors when considering your tech strategy beyond function and pricing. One is the long-term viability of a Windows/PC-based legacy system. All of these (and there are several) were designed in and are at their core 1990's technology. Thirty years on, we are in a different era and forward-looking companies will want to keep pace and plan a migration on their own terms vs. Delaying and being at a competitive disadvantage. Another element is in recruiting and customer retention. Workers today expect cloud and mobile convenience, which Sage Intacct delivers in spades. From the perspective of many, Windows/PC platforms are as familiar as rotary-dial phones, in other words, a quaint relic of the past. Customers like to know that the builder they are placing trust in is progressive and investing in their ability to perform at the highest level.
Features
While both accounting solutions offer similar features, there is a clear advantage with Sage Intacct. The features listed for Intacct far outweigh those listed for 300 CRE. Below you'll find each outlined.  
Accounts receivable
Accounts Payable
Allocations
Budgeting
Financial Planning
Cash management
General ledger
Fixed assets
Job costing
Multi-entity and global consolidations
Purchasing
Assets Management
Real-time reporting
Real-time dashboards
Revenue recognition
Spend management
Time and expense
Financial management

 

Project accounting

 

Integrated documents

 

Compliance

 
Service management

 

Mobile reporting

 

Workflows

 

Alerts

 

Project management

 
Purchase orders

 

Subcontractor management 

 

Change Management 

 
It is
clear that Sage Intacct
offers more for your money. This all-in-one solution will streamline your construction business.

Vendor Compliance
Sage Intacct offers customizable general contractor agreements with change management capabilities. You can establish smart rules to meet compliance standards.  
Sage 300 CRE has a feature to manage and record agreements. You can also maintain change orders, lien waivers, and certificates.

Financial Statements
Sage Intacct has interactive financial dashboards. These dashboards can find documents through keywords or jobs. And you can integrate Excel spreadsheets if you have external information to include.  
Sage 300 CRE has basis reports available. You can customize them with another application and integrate them with Excel.  

Reporting Options
Sage Intacct has interactive dashboards with real-time reporting. It also has an interactive custom writer to create customized reports. There are many APIs so you can use third-party intelligence tools. 
Sage 300 CRE as inquiries, dashboards, crystal reports, and report writer capabilities.  
Benefits of Using
Sage Intacct Construction
Are you wondering how the two companies deliver these accounting functions? Curious about why one would be a better choice than the other? Keep reading to understand how Sage Intacct has better options for several of the mentioned features.  

Job Cost Reporting
Both Intacct and 300 CRE offer reporting. The difference is how you can view the reports.  
Intacct has real-time, interactive dashboards. The standards reports available give you a clear view of your financial status at any given time.  
With Sage 300 CRE, you have to generate reports as you need them. And information has to be entered before you can view it.  

Payroll Integration
Sage Intacct offers easy integration with the platform so you can import your payroll data. By integrating your payroll provider, you can streamline the entire process, saving time and money.  
A construction payroll module is launching as part of Sage Intacct in 2022. This would end the need for a payroll provider completely, saving costs.  
Sage 300 CRE offers a payroll application with the license. You can also integrate your provider to have your payroll as a part of your construction management solution.

AIA Billing
Anyone in the construction industry understands why easy AIA billing capabilities are a must.  
Sage 300 CRE offers standard AIA billing. Sage Intacct is implementing AIA billing templates in early 2022.

Retainage Tracking
Retainage tracking is a huge deal in the construction industry. And it's important your company tracks contracts to ensure you receive your payments.  
Both Intacct and Sage 300 CRE offer standard retainage tracking options. Sage Intacct has increased workflow flexibility with its tracking.  
Why
Sage Intacct Construction

Software?

The distinctions between Intacct and 300 CRE are clear. If you're not convinced, there are many other benefits to using Sage Intacct as your accounting software.  

It also has more than 200 marketplace providers. This means you can integrate many other applications with Intacct.  

With so many options to add applications to the system, it would be impossible to not create an accounting system that meets your specific needs. Below are more reasons why you should choose Sage Intacct for your construction business.

Time Management
With the ability to create workflows and processes, you'll save time. All your financial documents will be in one place, and you'll reduce the risk of lost papers or errors. More time equals more efficiency and productivity.  

Cost Savings
Increased efficiency and productivity lead to cost savings. By implementing cloud-based accounting software, you also cut the need for hardware and IT support. 
Streamlined processes and an electronic environment will cut labor costs. You'll save costs in ways you didn't expect.  

Flexible and Scalable
Cloud-based software offers flexibility. You can access it from anywhere and update it daily. By configuring the software, you increase the ability to be flexible with other systems.  
Native cloud solutions are not constricted. They have vast amounts of storage. You can buy more if needed. Your accounting solution can scale with your business.  

Increased Data Security and Integrity
By housing your data in an external, cloud server, you are increasing your security. Cloud solutions offer many security measures to ensure your data stays safe and confidential.  
A paperless environment leads to less risk of human error. This leads to more data integrity.  
Get Started with Sage Intacct Construction Today
Are you ready to upgrade your Sage 300 CRE software? Or were you on the fence about which software to choose and aren't anymore?  
This article explained the differences and advantages of each solution. You should assess your accounting needs to determine which meets your business's needs.  
Are you ready to streamline your construction operations and maintain accurate financial documents? Reach out to Bangert today to get started!