Sage 300 Construction And Real Estate
The most widely used and acclaimed construction management software in North America.
Take Control With Sage 300 Construction And Real Estate
The Problem It Solves
Sage 300 CRE touches every aspect of your construction business. For 34 years Sage 300 Construction and Real Estate has powered leading companies in North America. Superior financial reporting, competent project management, complete functionality are the hallmarks you can count on.
Your Immediate Return
When you implement Sage 300 CRE in your business, you start getting the information you've been missing and eliminating time-consuming processes and delayed reporting that hinder your progress.
Long-Term Gain
With 300 Construction and Real Estate, you have the peace of mind that you're on a platform that has delivered time and again for thousands of companies like yours. You have the confidence that it will perform well for decades to come.

Complete Financial Management


Integrated Document Management






PO, Subcontract, and Change Management
User Interface
Rely on Sage 300 Construction and Real Estate's construction-tested UI for ease of use and familiar access to your company's heartbeat.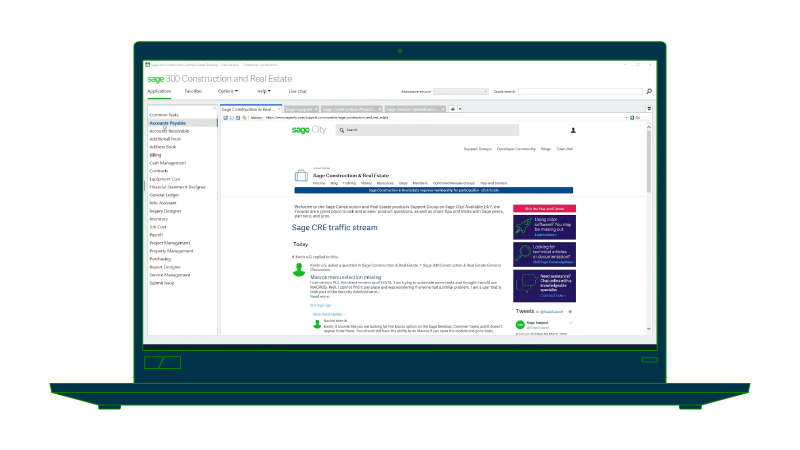 Complete Financial Management
Sage 300 CRE's financial suite sets the standard. Powerful inter-company and multi-company accounting along with all the integrated supporting modules required to operate smoothly and efficiently.
Project Accounting
Our project accounting delivers the information you need to make the right decisions at the right time. Analyze every detail or see the big picture. We've got it covered.
Integrated Document Management
Scan, attach, route and approve important documents and invoices with desktop and mobile apps.
Workflows and Alerting
Let Sage do the work. Automate tedious processes with workflows and alerts that bring the unseen to light. Know what's happening no matter what.
Project Management
Cloud and desktop project management keeps you in control of your jobs. Create and share all the documents, changes, photos and more that your processes demand.
PO, Subcontract, and Change Management
Cloud and mobile commitment and change management features lay a foundation of solid management practice.
Mobile Reporting
Need info now? Done. Sage Mobile Reporting delivers what you need on the device you have.
Service Management
Your command center is the dispatch board. With Sage it can be in your office or mobile. Techs get all the call data on their mobile, maps, manuals, photos, service history, and problem report.
Equipment Costing
Make better equipment decisions and manage equipment inputs and billings.
Go Mobile
Time entry, daily reports, invoice approvals, reports and more are all available on Sage's mobile platforms.
Procore – Sage Estimating – Sage Paperless – Sage Service Operations – Timberscan – eSub Construction Software – Sage CRM – hh2 – Microsoft Word – Excel – Outlook – Microsoft Power BI – Time Tracking Solutions
I love the product
"What I like best about this administration is that the client experience setup which fits in with that of the wary client. There are numerous shields incorporated with this product all encompassing the activity of information passage. For instance, it is hard to finish off of the underlying begin screen on Sage 300 while altering receivable or passages which spares you from eradicating unsaved work. The client and seller list by sequential order and passage request likewise help to combine surveys of equalizations amid month to month bookkeeping cycles."
Eugene H
Construction Management Specialist
Small-Business(11-50 employees)
Powered by g2.com.
Great For Accounts Payable and Receivable Quick Reference
What I like best about this service is that the user experience setup which conforms to that of the cautious user. There are many safeguards built into this software all surrounding the action of data entry. For example, it is difficult to close out of the initial start screen on Sage 300 while adjusting receivable or entries which saves you from erasing unsaved work. The customer and vendor list by alphabetization and entry order also help to consolidate reviews of balances during monthly accounting cycles.
Brian R
Intern
Research
Small-Business(11-50 employees)
Powered by g2.com.
Favorite Accounting Software
"Sage is an excellent way to track expenses and revenue for construction. I am able to track construction costs in detail. There are many tools to maintain retainage for each subcontractor and track which retainage has been paid and what exactly has not been paid by simple glance or reports as needed. I can also have pending invoices versus released and posted invoices, which makes life easier at the end of each month tracking down what I do not have approved from each employee."
Loren C
Accounting Assistant
Accounting
Powered by g2.com.
Start Building With Bangert Today
In an era cluttered with technological noise, Bangert takes the guesswork out of finding the right solution for your needs. Our team is excited to share our proven process with you and it has never been easier to start a conversation.