hh2 Cloud Services
Making Construction Mobile
A Timecard Solution Designed For Your Construction Accounting Software 
Collaborate more effectively on the web with cloud-based time-tracking and remote payroll solutions.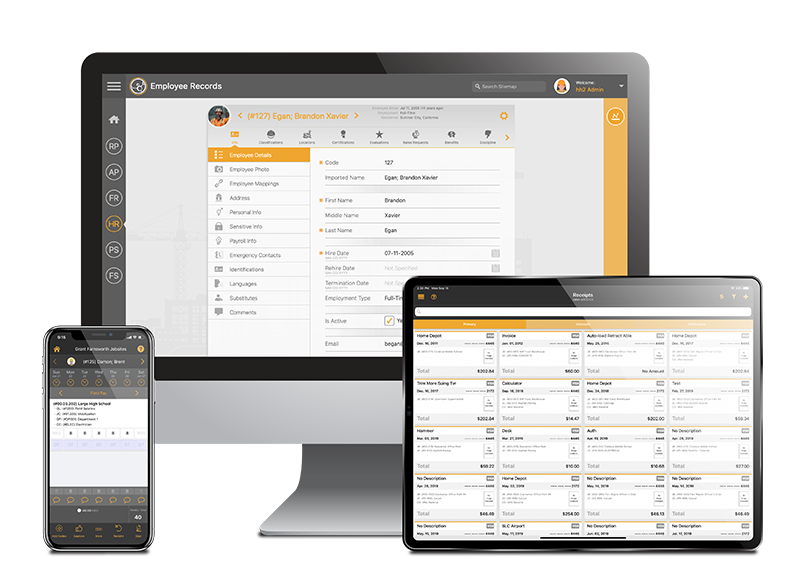 Manage projects, documents, and time entry with hh2
hh2's Solution For Time Management
Remote Payroll – Field Labor Time Entry
hh2 Remote Payroll manages construction time entry and allows you to customize the approval process. Remote Payroll supports rule-based routing so that you have control over who enters and approves time entry during each step. With accounting integration and multiple time entry methods, Remote Payroll is a time management system that can be tailored to fit your unique needs. 
Main Features 
Month-to-month subscription

 

Seamless accounting integration

 

Robust customizable approval paths

 

Connect with field service workers seamlessly

 

Record data on Android and iOS devices via mobile apps

 
hh2's Solution For AP Routing & Approval
Document Flow – AP Invoice & Credit Card Receipt Approval
A cloud-based AP routing and approval solution. hh2 Document Flow allows invoices to be distributed to separate jobs, cost codes, expenses accounts, and AP accounts. Subcontractors can enter their monthly 702/703 AIA invoices through a portal where your project managers can review and approve the invoices. 
Main Features 
Credit card transaction coding & approval

 

Implement reimbursement workflows

 

Approve invoices at anytime, anywhere

 

Capture receipt photos and code them on a smartphone or tablet at time of purchase

 

Invoices via email are automatically imported into the system

 

Invoices that are scanned to a particular document folder are automatically imported into the system
hh2 is Great 
"hh2 is great for construction management companies. We have several employees working out of the office who are able to submit timecards in a timely manner." 
Frank
Industry: Construction Management
51-200 employees 
Powered by g2.com 
Great cloud-based remote payroll and document flow 
"Love the easy-to-use cloud-based platform. The system is amazing and handles our business needs." 
Administrator
50 or fewer employees
Industry: Construction
Powered by g2.com 
Fairly easy-to-use and integrates with Sage 300 CRE 
"hh2 Remote Payroll integrates fairly seamlessly with Sage 300 CRE. We haven't run into issues with the integration. Even some of our employees who are not technically savvy have been able to learn how to use the mobile app. Password resets are easy. Using a timesheet entry app like this has eliminated duplicate entry from this process and saves time for our payroll clerk. There is functionality that allows for different approval processes for different groups. We can also require more information on some groups, such as Davis-Bacon jobs that require certified classifications, without having it affect other groups. Overall, it has made a huge difference for our company." 
Ashley
51-200 employees
Industry: Construction 
Powered by g2.com 
Has Improved Our Timekeeping Practices 
"The overall experience has been very positive. Good integration with Sage 300 CRE. Has enabled much better timekeeping by the field and eliminated duplicative time entry." 
Reasons for Choosing hh2 Remote Payroll 
"From an implementation standpoint, hh2 Remote Payroll was much smoother and easier to get off the ground and running." 
Michael
Industry: Construction
51-200 employees 
Powered by g2.com 
Start Building With Bangert Today
In an era cluttered with technological noise, Bangert takes the guesswork out of finding the right solution for your needs. Our team is excited to share our proven process with you and it has never been easier to start a conversation.