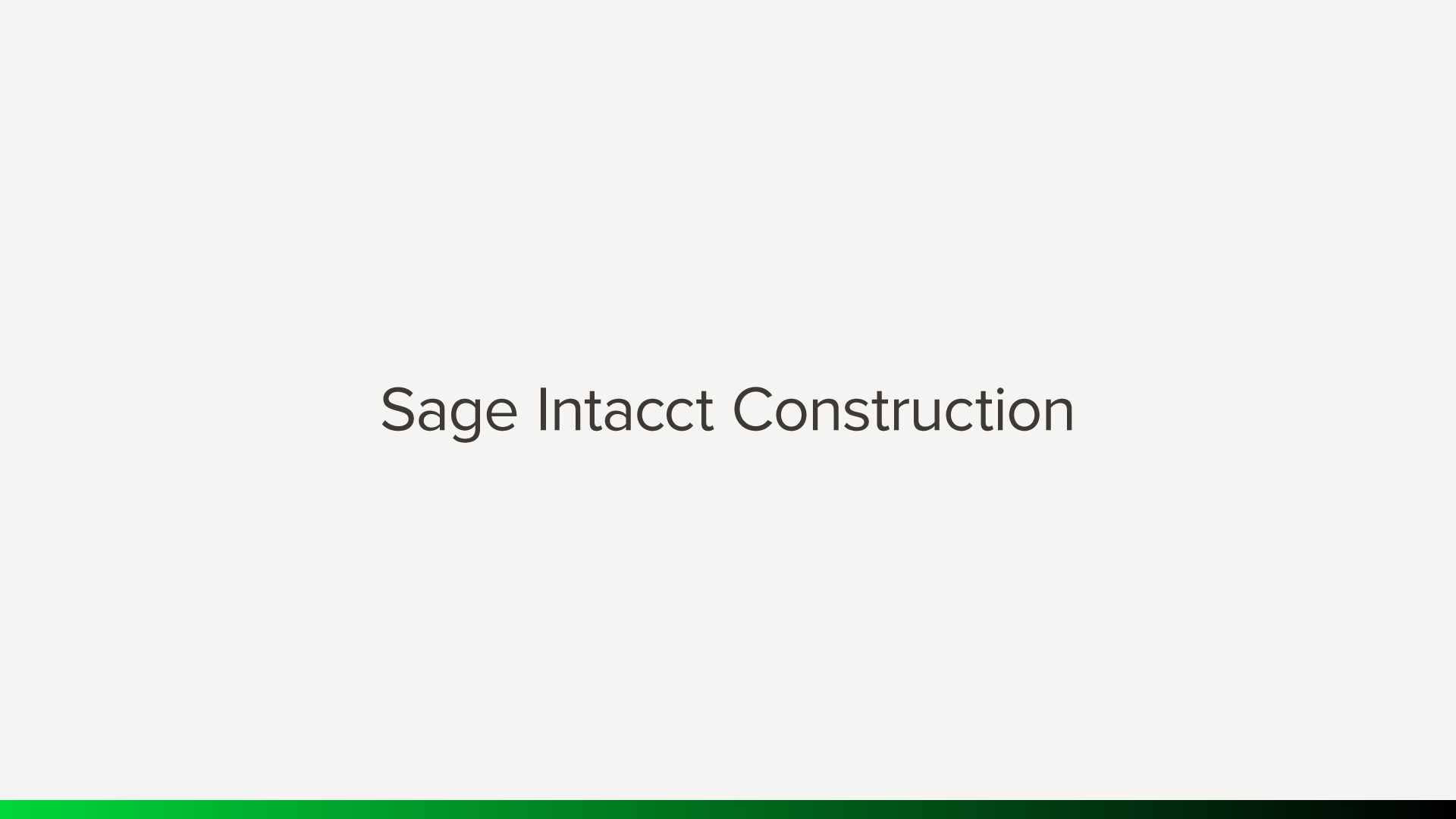 In a construction industry survey,
95 percent of respondents
are ready to use new digital tools in the United States. But only 15% of respondents have implemented a digital transformation strategy.
Have you started your company's digital transformation? Does the process need a boost? 
A cloud accounting ERP can move your digital transformation forward. For instance, Sage Intacct Construction is a financial ERP designed for the construction industry. 
Learn more here about digital transformation and find out how Sage Intacct Construction can fit into your strategy! 
What Is Digital Transformation?
A quick internet search will show many different definitions of digital transformation. Why? Digital transformation looks different for every company. 
Digital transformation is the integration of digital technology into all business areas. It changes how your company operates. It also changes how you deliver value to your clients. 
Digital transformation impacts aspects of your business such as: 
Processes

 

Practices

 

Models

 

Culture

 

Customer experience

 
In short, it's how you meet changing business and market dynamics. 
How Does Digital Transformation Benefit Your Construction Company?
Digital transformation is critical for your construction business. It makes you more resilient and it helps you achieve better outcomes for your company.

Stay Competitive
Digital transformation helps you stay competitive. Customers expect the capabilities they get from top consumer sites. They want visibility into the progress of their projects. 
Employees expect consumer-like tools that are easy to use and available anytime. You can better engage clients and employees with better technology.

Adapt to Changing Circumstances
The ongoing global pandemic highlights the critical importance of adaptation for your business. Digital transformation helps you react quickly to events. You can handle supply chain disruptions or changes in customer demand more easily. 
Digital tools help you make better decisions on the go. If you see that a project is falling behind schedule, you can adjust resources. You can keep all construction projects on track.

Improve Productivity
Traditional paper-based business methods are time-consuming and prone to errors. They're problematic to store and collecting and analyzing data can be difficult. As such, your employees spend too much time on administrative tasks. 
Digital tools improve productivity by helping you streamline operations. They can cut duplicated efforts. They reduce the time necessary to process paperwork. 
Digital technology reduces errors and improves communication.

Reduce Costs
Digital transformation helps you reduce costs through improved efficiency, productivity, and agility. For example, you can get better pricing on materials through more accurate information. Automation of repetitive processes can save your employee hours for higher-value tasks.
Sage Intacct Construction and Your Digital Transformation
Sage Intacct Construction is a cloud accounting ERP that propels your digital transformation. ERP software manages and integrates your core business processes. Sage Intacct Construction capabilities include: 
Accounts payable and accounts receivable

 

Allocations management

 

Budgeting and planning

 

Cash management

 

Dimensional general ledger

 

Fixed assets

 

Project costing and billing

 

Multi-entity and global consolidations

 

Purchasing

 

Reporting and dashboards

 

Revenue recognition

 

Spend management

 

Time and expense

 
Integration with systems like Procore and Salesforce lets you handle other business needs.
Sage Intacct Construction goes beyond generic ERP software solutions. It was designed for the construction industry. It includes functionalities specific to the demands of your industry. For example, you get compliance reporting and job profitability metrics. 
Sage Intacct Construction uses technologies like automation, machine learning, and predictive analytics. It creates process improvements for your company. It can help you drive strategic change. 
Benefits of Sage Intacct Construction
Sage Intacct Construction brings many advantages as part of your digital transformation. Sage reports that users get on average: 
20-40 percent more efficiency in AP/AR processes

 

25-50 percent reduced month-end close time

 

3x more time available to spend on analysis and business strategy

 
Intacct Construction has an intuitive interface and streamlined accounting management. It will bring positive change to many aspects of your business.

Connectivity
Sage Intacct Construction uses an open API. You can easily integrate your other business systems. Payroll, project management, and CRM are some examples. Seamless integrations enable faster and more accurate reporting. 
You can keep the tools and systems that work well for your business. Integration with Sage Intacct Construction helps you optimize them. Effective connectivity with other systems lets you fully customize Sage Intacct Construction to fit your business' needs. 

Cloud-Based Solution
Sage Intacct Construction is a true cloud solution. You don't need to buy and maintain expensive IT infrastructure. You need fewer IT personnel hours to manage the software. 
Additionally, cloud-based software doesn't need a lengthy installation and configuration process. You can start using Sage Construction right away. 
Your company's digital information is more secure. You get regular backups and updates. You can access your data from anywhere on any device. A cloud-based SaaS (software as a service) solution lets you scale easily. You can increase or decrease capacity as your business needs change.

Document Control
You get more accurate paperwork with digital documents in Sage Intacct Construction. You can easily find, view, and share documents. Regarding collaboration, you can also see who made what changes to the paperwork. 
Digital documents are more secure. You can set permissions for those who can access certain documents and avoid lost or missing documents.

ROI
Sage reports that users see 100 percent ROI. Some of the factors contributing to this return are: 
Improved cash flow

 

Better visibility

 

Improved gross margin

 

Lower IT costs

 

More efficient processes

 
With Sage Intacct Construction, you pay for the features you're going to use. You don't waste money on unused capacity. 
Let Sage Intacct Construction Drive Your Digital Transformation
Sage Intacct Construction can help move your digital transformation forward. Integrating your business processes through a cloud accounting ERP improves efficiency and productivity. Your business will be more resilient and future-proof. 
To help the software implementation process, you can rely on Bangert! We've provided leading software solutions to the construction industry for almost 40 years. We'll help ensure that Sage Intacct Construction meets your digital transformation goals. 
Contact us today to speak with an expert!