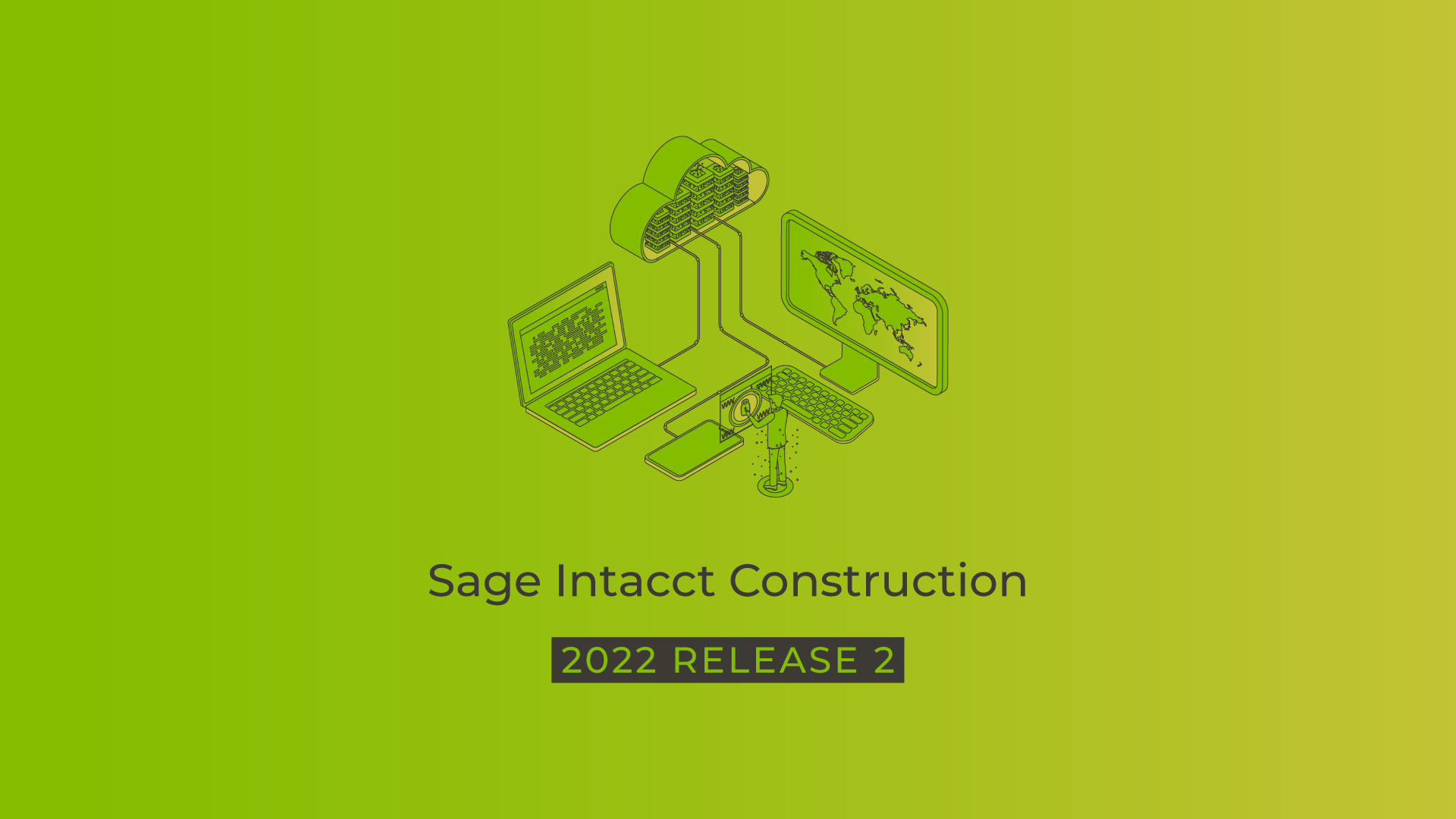 In the United States, the construction industry brought in more than
$2 trillion
in a recent calendar year. There are construction businesses of all sizes vying for their piece of the pie. Small and medium-sized construction businesses need to get an edge on the competition, and they do that with cloud-based software platforms that help them manage the details. 
Sage Intacct is a software as a service (SaaS) system that can improve your business efficiency to the fullest. With the newest version release, there are a lot of benefits to look forward to. 
Here's what you should know about the latest 2022 R2 Release of Sage Intacct. 
How Can ERP Software Help You With Your Construction Projects?
There's a reason why people rely on software for their construction projects and accounting. Construction business software like Sage Intacct helps construction companies in several different areas, including: 
Accounting, accounts receivables, and bookkeeping

 

Budgeting and planning

 

Managing your expenses and time

 

Making business acquisitions

 

Managing your company's scheduling and personnel

 

Engaging in contracts and archiving documents

 

Keeping your project costs low

 
Regardless of what kind of construction project you're engaging in, Sage Intacct is a great fit when you're trying to handle these and other areas of business.  
What Are the New Features in 2022 R2?
The business of construction and design software is worth $9.6 billion globally. The features are a big reason why these software platforms are so popular and useful.  
The software is powered by some Artificial Intelligence (AI) features, which are helping to advance the construction industry like nothing else. Here are some of the advancements that you'll appreciate: 

Improvements in Inventory
Sage Intacct is one of the best software platforms on the market when it comes to inventory management. You'll be able to use Sage Intacct to better track, manage, and facilitate all your inventory.  
Here are some of the ways that release 2 has made improvements to the way that inventory is handled: 
You get real-time visibility of all your inventory

 

The software lets you handle every segment of your workflow, including picking, packing, and shipping

 

Enhancements to your stockable kit tracking

 

Improvements to sales order management

 

Intuitive status updates for orders

 

Better fulfillment management

 

Data that helps to prevent inventory shortages in advance

 
Inventory is everything in construction management, so these features will give you a head-start on all your construction needs.  

More Tax Features
Regardless of what kind of construction project you're putting together, you'll need to manage the taxation that comes with the territory. In construction, you must be particularly mindful of Value-added tax (VAT). The management of this tax is crucial to the construction industry, and these rates differ based on the state your company operates in.  
With the R2 release, you're getting access to even better reporting and more usability. The software will calculate and display the tax rate without you having to do much work. Your vendors and customers will know exactly how much tax they will need to pay, and this allows you to get paid in full for each project.  
It allows you to manage the tax record box and other aspects of the records so that you're doing clear and transparent business every step of the way.

Multiple Billing Models to Try Out
Construction companies need to be particularly mindful of the way they handle their billing. The new Sage Intacct software version allows you to handle that so that customers are clear on what they're paying, you receive the money you're entitled to, and you get clean and thorough records every step of the way.  
One of the best features in Release 2 is evergreen subscription contracts. Managing these contracts will help you simplify your billing process so that you can send recurring statements and get paid what you deserve with ease.  
These updated features include things like: 
The ability to add term-type options to each contract

 

Multiple billing classes to use, including recurring billing

 

Access to more rate tables, timesheets, and other features

 
Do your due diligence when exploring these features so that you can handle your billing in a way that works for you.  

AP Bill Automation Features
Automation is all around us in this day and age and that fact remains with the newest release of Sage Intacct. It comes with a variety of AP bill automation features that will make your company's life easier.  
The software has an early adopter program for its new AP bill automation features that you can sign up for. In doing this, you'll be on the cutting edge of the new advancements and can start improving the way your customers are billed.  

Enhanced Handling of Construction Contracts
The way that you handle your construction contracts is truly where the rubber meets the road with this newest release. In addition to evergreen billing opportunities, you'll get access to different mapping types that make sense of each line item. The release comes with a variety of new billing templates that you can customize for your company's needs.  
Your customers will quickly get e-invoices sent out that are accurate and up to date, whether it's a one-time cost or a recurring customer. The software platform gives you advanced archives so that you can easily pull up each customer's information and help them to manage their accounts.  
This lets you improve your customer service and make sure that you have answers to questions as they come along.  

An Updated User Interface
Without question, one of the best updates in the second release is the enhancement of the user interface. You need a quality user experience (UX) anytime you're relying on software to help you conduct business. People that have moved to version 2 have found the workflows easier and the graphical user interface (GUI) much easier to navigate.  
The software moves with speed and fluidity and allows you to troubleshoot and get answers to your questions whenever there are functions or features that you don't understand.  

Easier Data Field Exporting
Though Sage Intacct is your software platform of choice, it doesn't mean that you have to be entirely locked in. R2 allows for easy data field exporting so that you can extract any information and use it outside of the platform.  
You'll be able to export entire fields or any objects or bits of data within the field. This makes your workflow easier and lets you handle each detail with precision.  

Help Forecasting Pricing and Consumption
The best business construction software also helps you keep your spending under control. With Sage Intacct, you'll get forecasting models that let you understand your consumption and how this will affect your spending not just now, but for the foreseeable future.  
As a result, you'll have a better handle on your budgeting and can set your prices in a way that makes sense. The software platform uses advanced AI to make this happen, and both you and your customers will benefit. It also comes with consolidated financial information that will help you manage your cash accounting and get information on any equipment or construction projects you have been financing over the years.  
The platform lets you send collections letters to your customers that are detailed and thorough so that they're aware of what they owe, and so that you get paid every dime that you deserve.  
Try Sage Intacct for Yourself
Sage Intacct 2022 R2 has a little bit of everything you need, and then some. When you're in the market for a business software platform that helps your construction company thrive, this one is worth every bit of your time, money, and attention.  
Do you want to see the 2022 R2 Release live? Join Sage in their Daily Construction Demos.