Learn why Sage 100 Contractor is a straight-forward, easy to learn ERP designed to help small contractors grow. For this article, we talked with Janelle Miller at PDQ on how she went from zero accounting knowledge to "I wouldn't be in this career without Sage 100 Contractor".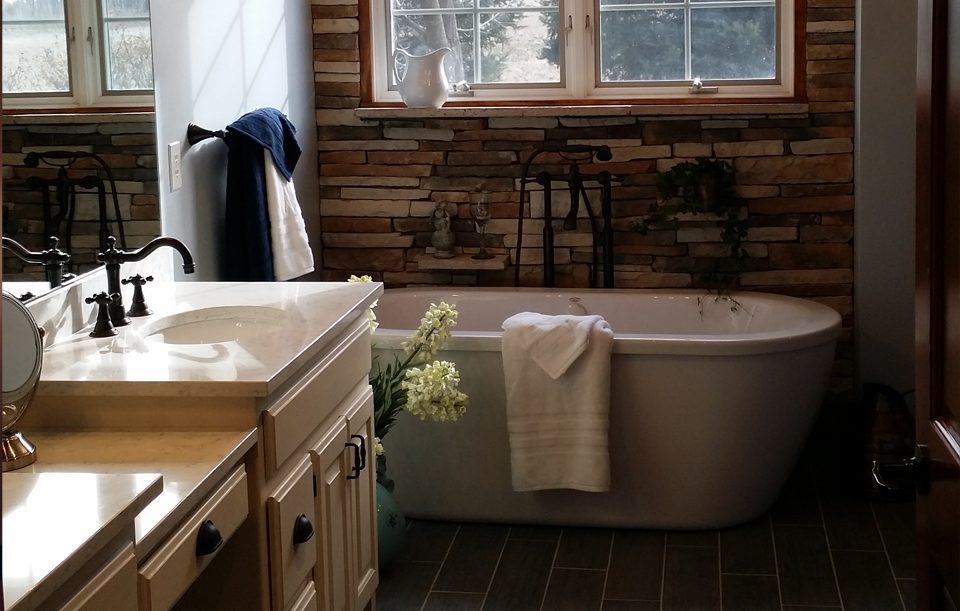 Who This Case Study Is For
If you're a small to medium-sized contractor that wants to know the benefits of an integrated accounting solution, designed specifically for construction, this article is for you. Do you have a hard time keeping track of data from job-to-job or have a deep desire to have "everything under one roof"? This article is for you. Do you have an office manager but aren't necessarily at the point where you need an accountant? Yep, this article is for you!
Just a note: Even though I talk about small contractors in this article, we have companies with revenue north of $100 million that utilize Sage 100 Contractor to this day. It's a great, versatile, and robust system for any stage.
But First, The Background: About PDQ
PDQ Construction is a small remodelling contractor based in Topeka, KS. Even though they may be "small" PDQ has multiple divisions and projects running simultaneously. This leaves a lot of moving parts, including accounting, financial statements, purchase orders, time management, and more, to be managed and organized. In the case of PDQ these parts are managed by a single person, Janelle Miller. So how does PDQ do it? They use Sage 100 Contractor: accounting software designed specifically for contractors.
The Problem
When Janelle Miller started at PDQ Construction, she had no prior accounting software knowledge. "PDQ was needing help, and I was a stay-at-home mom at the time, so they asked me to come in and help. A few years later, when the accountant retired, I came on full time," said Miller, adding that, "I came in with no prior accounting software knowledge." At first glance, you could assume that Janelle had an uphill battle, but since PDQ made the investment in Sage 100 Contractor, that wasn't the case at all. "It's very user friendly, it pretty much walks you through everything," Janelle told us over the phone.
The (Minimal) Learning Curve
One thing I took away from my conversation with Janelle was that while construction accounting and construction projects are complex, the ease-of-use and the minimalistic learning curve of Sage 100 Contractor helped her jump start her career. "It helps me do my daily job and saves time in ways I don't even think about," Miller added. In fact, Janelle couldn't stop talking about how easy it was to learn, saying that, "I'm all about easy and having a routine, Sage 100 Contractor gave me both of those."
How Sage 100 Contractor Works For PDQ
The great part about sage construction software is that it can be customized and designed for your specific needs. Construction companies like PDQ have unique processes, workflows, and systems that generic accounting systems like Quickbooks can't be customized to handle. For Janelle, and PDQ, "We run different divisions in our company, and I'm in charge of getting all those things set up and keeping them organized and running properly … Sage 100 Contractor plays a big role in that."
Not only can the system be customized for the company, but each user can have their own layout based on their preferences or level of access. The thing that stands out the most to me is that Sage 100 Contractor does a great job at being visual and modular by design. Anything within the "real estate" that TJ mentions in the above video can be moved and adjusted based on preference and workflow of the user. Those elements become more critical as you grow and add new team members into the system. As Janelle mentions so frequently, "It's just so easy to use."
Integrations That Matter
Although PDQ primarily utilizes the native modules within Sage 100 Contractor, I thought I'd point out a few integrations that are important. Whether you're needing more robust estimating tools, like Sage Estimating. I wanted to note this because we are now in a truly connected world and if your systems can't talk with one another you're missing out on a lot of growth potential.
Working With Bangert
When it comes to working with Bangert, Janelle said, "The Bangert team is wonderful, they are very helpful and very knowledgeable – they really know their stuff," adding that, "When you call Bangert, no matter how simple the problem is, they never make you feel stupid." In fact, Janelle gave Bangert a 5 of 5 stars for service, support, and professionalism. We've worked hard over our 35 years in construction technology to develop The Bangert Way, and you can tell by Janelle's comments that the hard work goes to work for our clients every day.
Sage 100 Contractor Motivates Janelle
Wrapping up my conversation with Janelle, I felt like I could have stayed on the phone with her the whole day. Her enthusiasm for the job was apparent in our conversation and her voice. On top of that, it made me feel good that our people, along with our construction and real estate technology helped Janelle and PDQ thrive. "I love everything about my job, I get to talk to people every day and I have a great boss," Janelle said, adding that, "There really isn't anything I don't like about the software."
How Sage 100 Contractor Can Work For You
As a business owner, accountant, or office manager, it's hard to step back and take a minute to work "on" the business instead of "in" the business. The day-to-day can become the focus point and often times we find that our clients overlook the most rewarding benefits of construction specific solutions. With Sage 100 Contractor, you get a single "project work center" with robust modules, reporting and tools that help you every step of the way – from estimate to job costing and project completion. 
The best part?
 You don't need to go to school and get a degree or take advanced courses in order to develop a deep understanding of the software. The team at Bangert, Inc. has successfully implemented hundreds of Sage 100 Contractor systems over the years. From your account executive to your success manager to your consultant, we ask the right questions upfront so you get started with the right foot forward. 
Read more about our story here →