Getting your field op crews to adopt new technology can be difficult. Sometimes even incorporating a laptop into their kit can send them kicking and screaming. Sage Service Operations delivers an experience they want to become familiar with … and enjoy.
On a Monday morning in late September, Jamie Leon, Murphy Tower's Office Manager, gathered with her team in a room to do something she never expected: hold a training session where their field op crews would train their team how to use a new piece of technology – specifically, Sage Service Operations. It was a first for Leon and Murphy Tower. "They are helping each other out, which is surprising because our service crews do not like anything electronic," Jamie said, adding that "It's awesome!"
Adopting new technology, especially in a service environment, can be tough. Often times it's met with resistance, reluctance, and straight up "turn my head the other way" attitudes. This adds frustration and complexity to the process, and in the end no one accomplishes what they set out to achieve. Leon told us "Field ops would take pictures of their timesheets and send them to the home office," which caused added roundabouts of communication and redundant data-entry. But with Sage Service Operations? "We dispatch work orders from the home office and they take it from there. There has been zero issues!"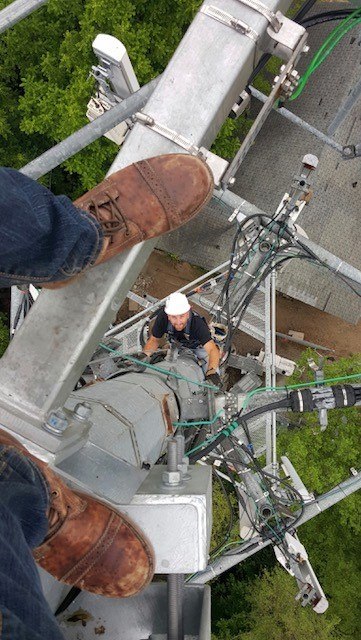 The key for Murphy Tower was in starting slow. After their implementation with Bangert, Inc., Jamie started out with a couple of service crews, with plans to roll out Sage Field Operations to more and more crews as everyone becomes familiar with the technology. In essence, what she is doing here is creating internal champions that want to advocate for the product. As technology becomes more involved and your systems become more integrated, this becomes a key component for any successful use case.
A few weeks later, we followed up with Jamie to see how her training sessions are going. "It's going very well, one service crew actually does work orders and job numbers now," Leon said. Murphy Tower will continue to work with Bangert, Inc. to enable more functionality, but the bottom line? It works. The mobile app is 100% functional and hassle-free with an intuitive user interface teams want to use.
Sage Service Operations gives you a single, mobile, place to put all of your time entry for work orders, quotes & estimates, online manuals & service history, maps to service sites, photo storage, and more. It seamlessly integrates with Sage 100 Contractor and Sage 300 CRE to empower your team to utilize technology in a way that saves everyone time and money. If you're interested in seeing how Sage Service Operations can impact your business, let's start a conversation by clicking the button below.