Did you know Velixo Reports not only helps with your day-to-day financial reporting but also construction and project reports?
Projects can range from one person to thousands of people, with numerous organizations involved, so having detailed reports about the scope, budget, processes and timeline of the project is crucial for project success.
To help manage projects, Microsoft Excel is a beneficial tool, used by over 750 million people worldwide, and it can help with many aspects of projects, including:
Job planning and scheduling
Tracking work in progress, project costs and time
Estimating costs to completion and updating forecasts
Comparing budgets with actuals
Communicating progress to stakeholders
Analyzing project performance with dashboards and KPIs
Managing a portfolio of projects
So how can Velixo help?
Velixo is an Excel based ERP reporting solution for both Financial Reporting and Project Management Reporting. With solutions to complement Acumatica, MYOB Advanced and now CEGID XRP Flex, Velixo is steadily growing its happy customer base across the globe and across ERP systems.

Here is how Velixo can help your business with Project Reporting.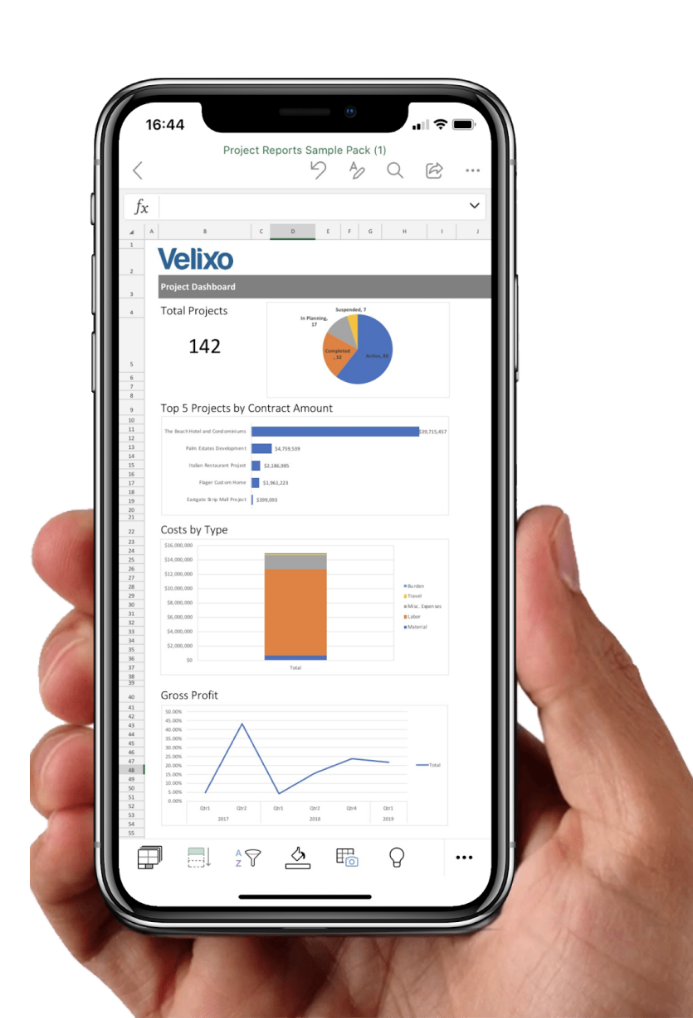 No more exports or manual entries required – you're always working with the most up-to-date data!
No longer are you limited to exporting or copying data out of your ERP system and then pasting or manually typing those values into Excel.  Now you can create a report – one time – and that report can be refreshed at any time to give you the most up-to-date information available. 
Data is loaded & refreshed in a matter of seconds thanks to the Smart Refresh feature that only retrieves updated information from your database – saving you time.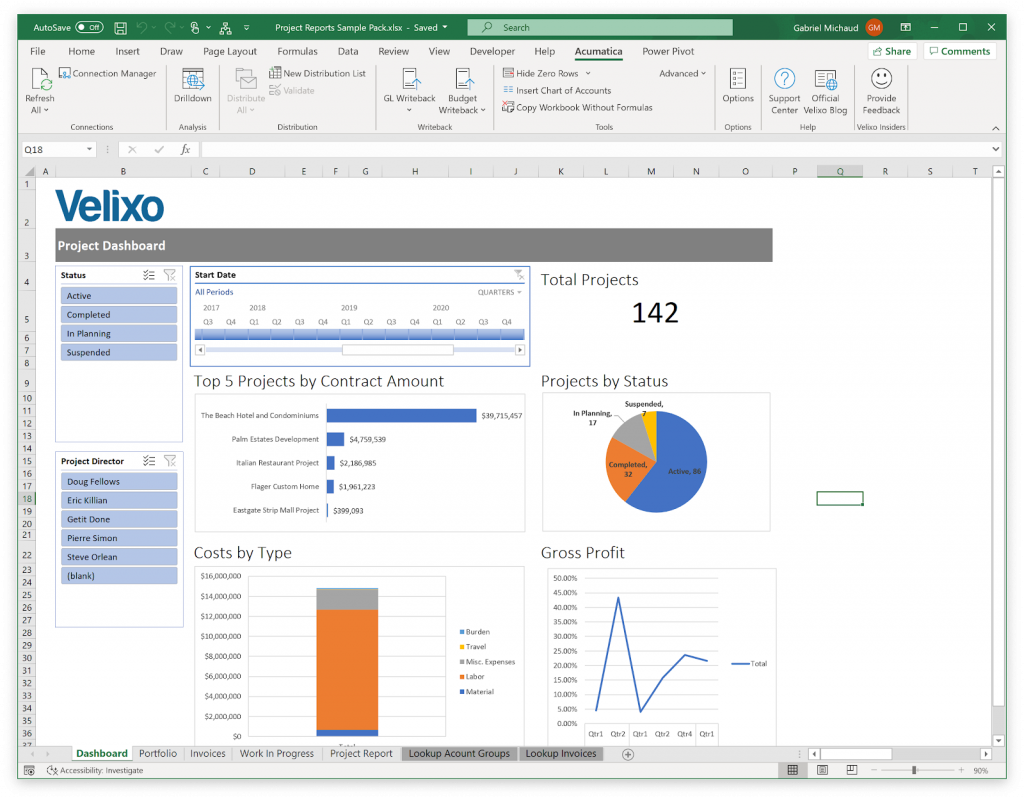 Easy data manipulation using simple functions and formulas
With all the power of Excel at your disposal, you can easily create totals and averages, or use Excel formulas to easily manipulate the values in any way you need.  Create stunning dashboards to display at-a-glance information about your organization. You can also include graphs, slicers, and filters to quickly update the key performance indicators that are important to you.
More advanced users can use VBA Macros to access the capabilities of both Excel and Velixo Reports, so as to exercise substantial control over and add even more functionality to your reports.
60+ Extra Excel Functions
Velixo Reports adds over 60 new functions to Excel, functions specially designed to work with your Acumatica General Ledger, Projects and Generic Inquiries – and Microsoft 365 users have access to even more functions that take advantage of the new Dynamic Arrays capabilities built into Excel 365. 
Need to know the underlying transactions for a balance you are seeing in your report?  Use the Velixo Report Drilldown feature.  See the summary information that corresponds to Velixo results in your report.  Then, drill down further to open the corresponding generic inquiry results within Acumatica.
Tired of taking vendor downloads and manually creating GL transactions in Acumatica?  Create a GL Writeback report that takes the downloaded information and automatically creates those detailed transactions for you.  Include all the account, subaccount, and branch details you need.
The Velixo Reports Project Forecast Writeback feature allows you to update project forecast amounts and quantities, directly from within Excel.  Update values and compare with project actuals as they become available.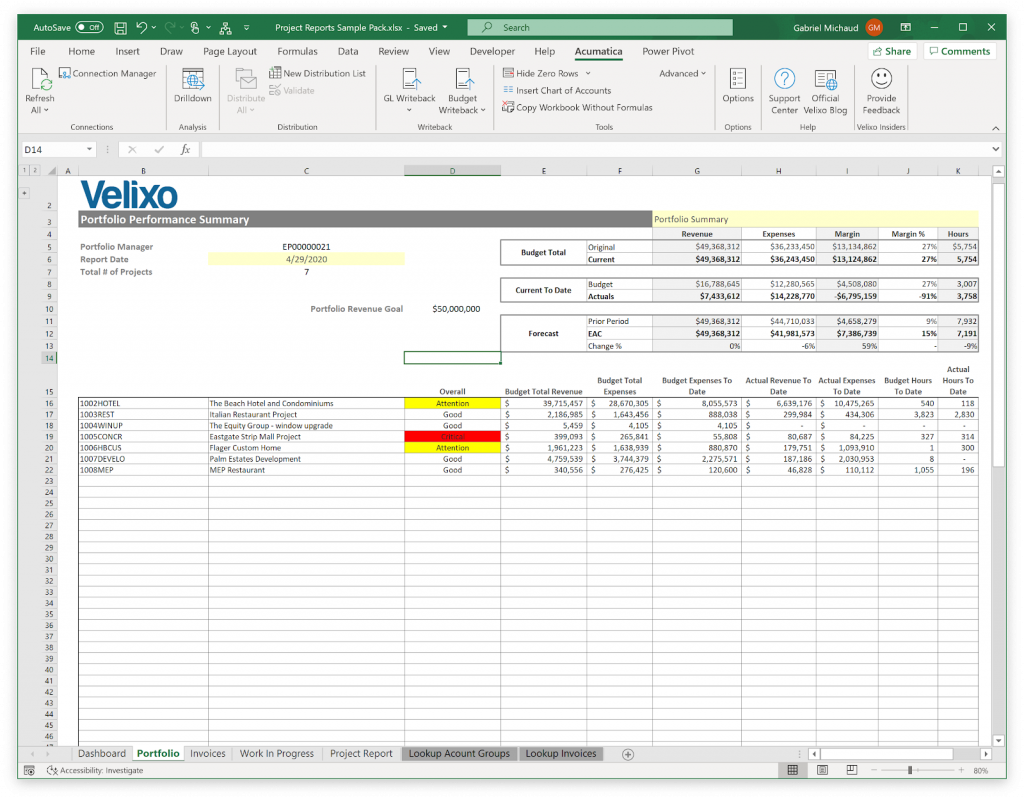 The entire project team can get involved!
Easily create copies of your reports and make them available to others through the Velixo Reports Distribution List feature.  Create subsets of a single report or automatically send parameters to a report to update it for a specific financial period, branch, division, customer, project manager,  project, etc.  Then, create the new report as a Velixo-enabled Excel workbook, a plain Excel file, or a PDF and save or email it.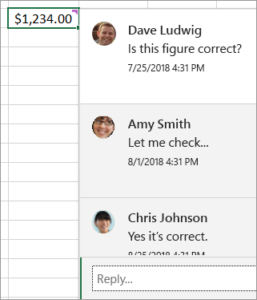 By providing a Velixo-enabled Excel workbook to other Excel users, they only see the data that their permissions in Acumatica allow them to see – all Acumatica security settings are respected.
Get your entire team involved in reporting.  Your Velixo license includes an unlimited number of users so that everyone can create the reports they need.  By saving your company-wide reports in a shared location where other users can access them (SharePoint, OneDrive, Dropbox or just a shared folder), you create an environment where everyone has access to the same reports, and the same financial and project data stored by Acumatca – giving your entire organization one version of the truth.
With the latest versions of Excel, it's also possible to collaboratively edit a spreadsheet, and this is called co-authoring. The beauty of this is that you can see changes instantly, so it has made collaborating to create reports possible.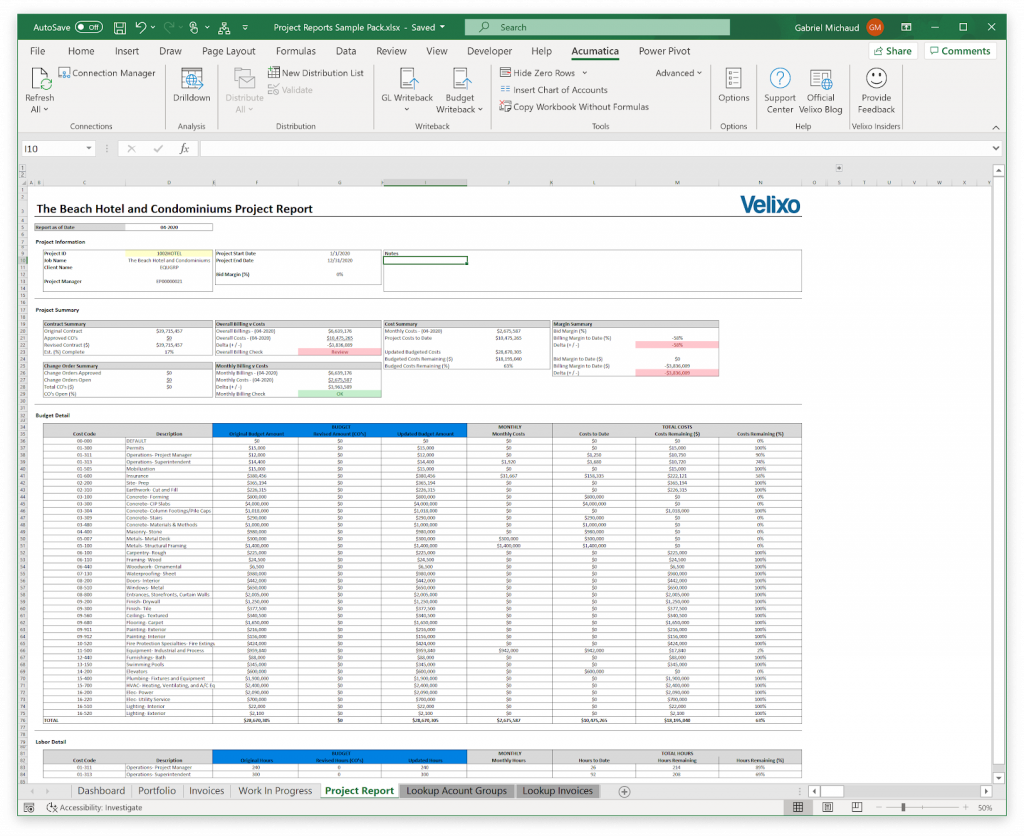 Sample reports – to make your life easier!
A major benefit to Velixo is that you get access to sample reports, which you can easily manipulate if needed.  This way you can build reports that look the way you like, whenever you need them, without having the IT department on speed dial.
Click here to download a Project Reports Sample Pack
Interested in a full demo?
With hundreds of customers worldwide, Velixo Reports is the premier solution to eliminating tedious and time consuming reporting methods, all within Excel. Seeing is Believing!
Contact us and we'll be happy to schedule a 1:1, personalized demonstration of Velixo.